S.A.Y Detroit Family Health Clinic
S.A.Y. Detroit Charities was founded by Mitch Albom and is aimed at improving the lives of the neediest citizens, through shelter, food, medical care, volunteer efforts and education. It serves as the umbrella for ongoing projects including S.A.Y Detroit Family Health Clinic (SAY) and S.A.Y. Detroit Play Center. Operated in partnership with Detroit Rescue Mission Ministries (DRMM) and Trinity Health, the clinic primarily serves homeless and/or uninsured women.
In response to the COVID-19 crisis, SAY, in collaboration with DRMM, Trinity Health and D2N, with input from Soulardarity, Parker Village and MHP, opened a walk up/drive thru mobile testing site. Tests are offered at no cost and a physician's referral is not required.
D2N has created specialty clinics including cardiology, pulmonary, dermatology, ear nose and throat, naturopathic medicine, podiatry, and gynecology. Clinics in ophthalmology and acupuncture are in the planning stages. Reliable pathways for women to be able to enter the hospital system for procedures and surgery have also been developed. An interview with Dr. Charfoos, the physician who staffs the gynecology clinic, on Fox 2 Detroit News, describes her work.
S.A.Y Clinic and Buckets of Rain, across the street from each other, have a unique partnership in their "Clinic to Farm to Table" program. The program provides free vegetables for clinic patients. The program enables doctors to write "prescriptions" for patients with diet-related health issues such as diabetes, obesity or hypertension. These patients can then visit Bucket of Rain's one-acre urban garden (rows of raised beds sitting upon pavement) across from the clinic for six weeks' worth of the recommended vegetables at no cost.
When the fresh food prescription is out of refills, the woman can return to the clinic for a visit and receive additional refills of the prescription for her vegetables. The doctors can then monitor the participants and look for positive changes in their health based on an improved diet.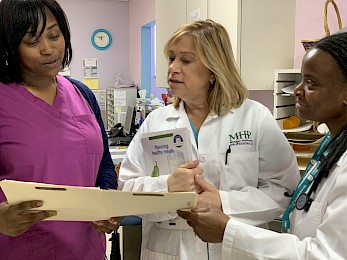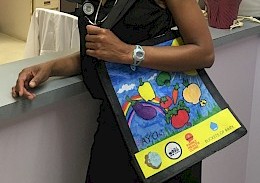 Back to projects