How To Help
Thank you for your interest! D2N's sole source of income is donations - donations that go directly to projects that fulfill our mission in both Detroit and Nepal. The actual work is done by those benefiting from the project. We believe that the best way to ensure sustainable results is to supply the funds and the intellectual support that make projects viable - and then to entrust it to those who will use and maintain it. Your monetary donations allow this process to occur. Here's how to do this:
DONATE
Donate Funds
Use the orange DONATE NOW button at the top of the page or mail a check to our address at the bottom of the page.
Donate Stock
D2N can accept donations in the form of securities. As long as a stock has been held for one year, that stock can be donated to D2N. Donors receive a deduction of the appreciated amount of the stock and avoid paying capital gains tax on gains. Please contact us for more information
Donate an IRA
IRA owners 70 1/2 or older can transfer as much as $100,000 a year directly from their IRA to D2N. The transfer is excluded from income and counts toward the IRA owner's required minimum distribution. Please contact us for more information.
FUNDRAISE
In addition to the D2N's Birmingham Bike Festival and the Over the Edge fundraisers, our supporters have taken upon themselves to fundraise in creative and thoughtful ways, such as:
Those Zekman Boys
Brothers Aaron, Jonah and Asher Zekman have always been an integral part of D2N in Detroit. Initially they fielded a team each of the three years at the Birmingham Bike Festival. They then moved on from bikes to football. 'Touchdowns for Nepal' was a Tikkun Olam (heal the world) project. Friends and family of each team member were solicited for sponsorships for each touchdown the team scored during the season.
As part of becoming a Bar Mitzvah, Aaron requested that funds donated in his honor be directed to WNUC 96.7 FM, Detroit's only community radio and for Buckets of Rain, whose urban gardens in Highland Park provide vegetables for homeless shelters, neighbors and their prescription for vegetables program at the S.A.Y. Detroit Family Health Clinic.
Carrying on the family tradition, Jonah is requesting that funds donated in honor of his 2021 Bar Mitzvah be directed to organizations in Highland Park, including Buckets of Rain and Soulardarity. In summer 2021 ten new, smart, solar-powered streetlights were placed in Avalon Village and Parker Village. Jonah's generosity partially funded one of these streetlights.
During the summer and fall of 2020 the boys and their parents were frequent volunteers at Buckets of Rain and Parker Village.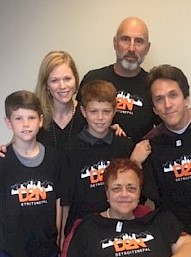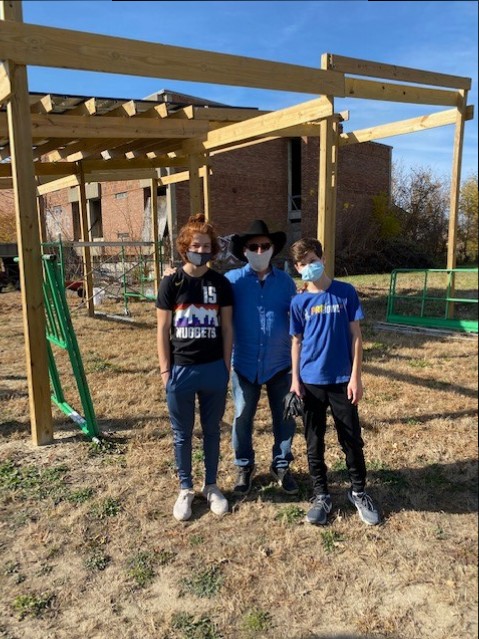 Tikkun Olam
In early 2017 a teen philanthropy group at Temple Sinai in Toronto, whose purpose was Tikkun Olam (repair the world) donated to D2N's scholarship fund in Nepal. Supported by a private grant with the mandate to establish a mission statement and then analyze, and research various charities for the purpose of selecting one for funding, the group crafted their mission: "to positively impact people's quality of life through supporting a charitable organization that promotes educational initiatives in order to champion equality." They researched charities that aligned with their mission and then evaluated them on the basis of sustainability and fundraising/charity efficiency. They felt D2N best exemplified their mission statement. The group was able to provide ten scholarships to girls in Nepal.
Art For Relief
In June 2015 Anya and Annika Chinnaiyan, ages 12 and 10, raised $3,384 for D2N's earthquake relief efforts. Anya and Annika asked their friends and classmates to create pieces of art. These 120 pieces of art were auctioned off at an evening reception. The evening was complete with refreshments and musical entertainment. At Anya and Annika's request the funds were used for girls' education and general needs.
Dance-a-thon
In 2014 South Park Elementary School in Deerfield, Illinois, held a dance-a-thon that raised $6100 for D2N's toilet projects in Nepal. The proceeds were enough to build almost 30 toilets which serve over 150 people.
Pennies Not Poop
When Deerfield, Illinois, resident Gayle Byck found out her local water supply was contaminated with fecal coliform (poop) during the summer of 2013 she realized it was the perfect opportunity to bring attention to the fact that 780 million people in the world live without access to clean water. Gayle and her family organized "Pennies Not Poop." Residents were asked to bring water bottles filled with pennies to the Byck's lemonade stand. D2N received the proceeds from the event.